3
NFL Analytics with the nflverse Family of Packages
As mentioned in the Preface of this book, the nflverse has drastically expanded since the inception of nflfastR in April of 2020. In total, the current version of the nflverse is comprised of five separate R packages:
nflfastR
nflseedR
nfl4th
nflreadr
nflplotR
Installing the nflverse as a package in R will automatically install all five packages. However, the core focus of this book will be on nflreadr. It is understandable if you are confused by that, since the Preface of this book introduced the nflfastR package. The nflreadr package, as explained by its author (Tan Ho), is a "minimal package for downloading data from nflverse repositories." The data that is the nflverse is stored across five different GitHub repositories. Using nflreadr allows for easy access to any of these data sources. For lack of a better term, nflreadr acts as a shortcut of sorts while also operating with less dependencies.
As you will see in this chapter, using nflreadr:: while coding provides nearly identical functions to those available when using nflfastR::. In fact, nflfastR::, in many instances, now calls, "under the hood," the equivalent function in nflreadr::. Because of the coalescing between the two, many of the new functions being developed are available only when using nflreadr::. For example, nflreadr:: allows you to access data pertaining to the NFL Combine, draft picks, contracts, trades, injury information, and access to statistics on Pro Football Reference.
While nflfastR did initially serve as the foundation of the "amateur NFL analytics" movement, the nflreadr package has superseded it and now serves as the "catchall" package for all the various bits and pieces of the nflverse. Because of this, and to maintain consistency throughout, this book - nearly exclusively - will use nflreadr:: when calling functions housed within the nflverse rather than nflfastR::.
The below diagram visualizes the relationship between nflfastR and nflreadr.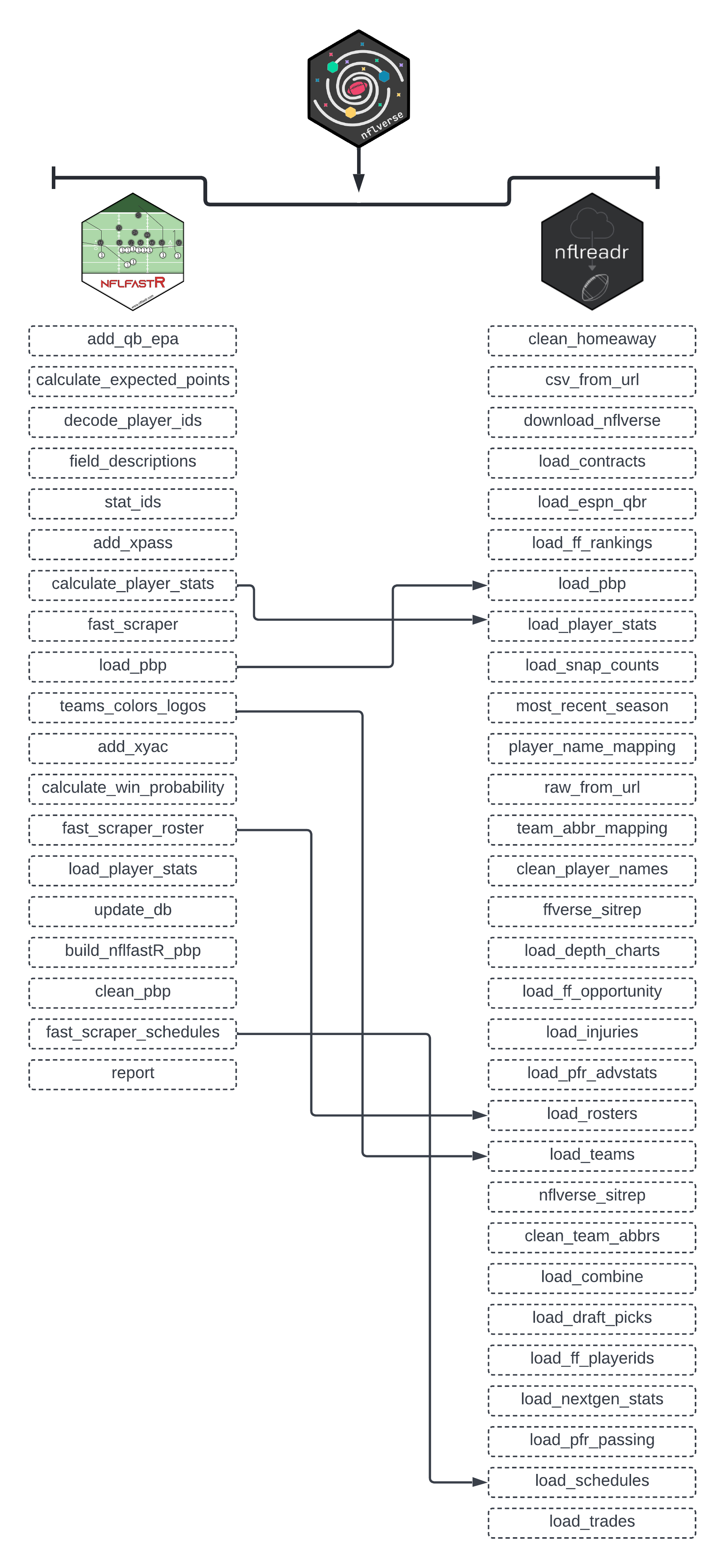 The purpose of this chapter is to explore nflreadr data in an introductory fashion using, what I believe, are the two most important functions in the nflverse: (1.) load_player_stats() and (2.) load_pbp(). It makes the assumption that you are versed in the R programming language. If you are not, please start with Chapter 2 where you can learn about R and the tidyverse language using examples from the nflverse.